Natural Ecology Resources
ㅡ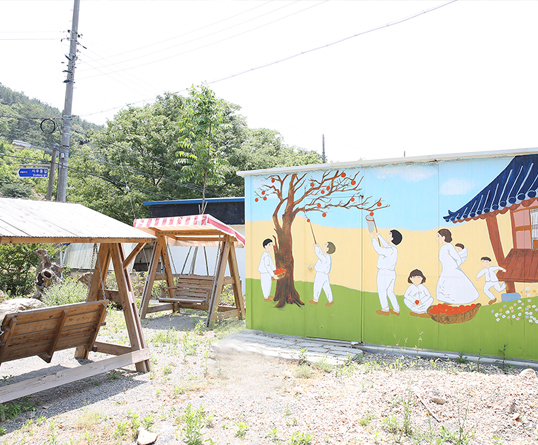 Gyeongcheon Singgeuraengi Eco Village
In mountain nearby Wanju-gun, there are all kinds of wild flowers and plenty of cultural tour resources like Wonteo, Donghyang-dong Kiln site and nurse-tree. Taking advantage of these features, Singgeuraengi ecotourism area is fostered with 3 experience strategies. 'ecology visit experience' based on Trail, visit plan, waterfall and wild flower garden, 'fresh landscape experience' based on Singgeuraengi, 'traditional culture experience' including Dangsan rite, mountain rite and carring succession tree focused on Dangsan tree. Natural resources like Shinhung valley, dandelion garden, Gyeongcheon reservoir and wild flowers including hepatica, adonis, trout lily and biological resources like butterflies, insects are abound all over Gyeongcheon-myeon. Also several cultural properties like hall of Paradise, Uhwa-lu Pavilion, copper bell, Jungchang memorial stone are well preserved in Hwaamsa Temple, national treasure no. 316., near a village.
Address

Jeollabuk-do Wanju-gun Gyeongcheon-myeon Gyeonggacheon-gil 377
Inquiry

063-290-2662 (Environment Hygiene Division, Wanju-gun)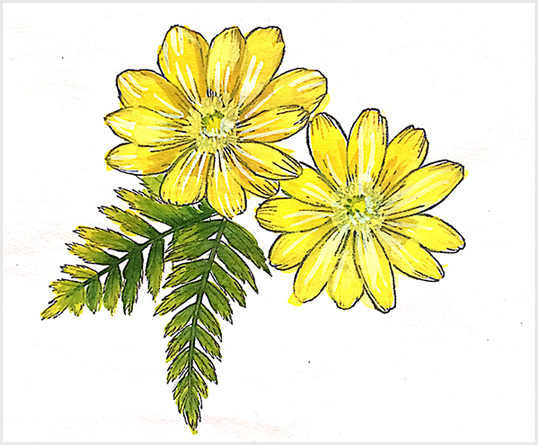 Adonis Amurensis
A dicotyledon polypetalous Species corolla ranales Order Ranunculaceae Family perennial herb, also called first day herb, Saussurea involucrata, ice-bird flower. grow in the shade of woods. height is 10~30cm, rhizome is short and thick and has a lot of dark brown rootlets.
Flowers bloom in early April, yellow, 3 ~ 4cm in diameter, blooming in leptocaul and end of branch one by one.Fruits are achenium, gathered on a flower bud of about 1cm in length, and have a ball-like hairs.
Experience Program
ㅡ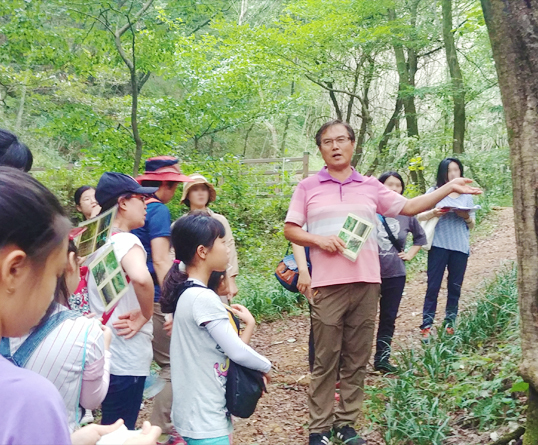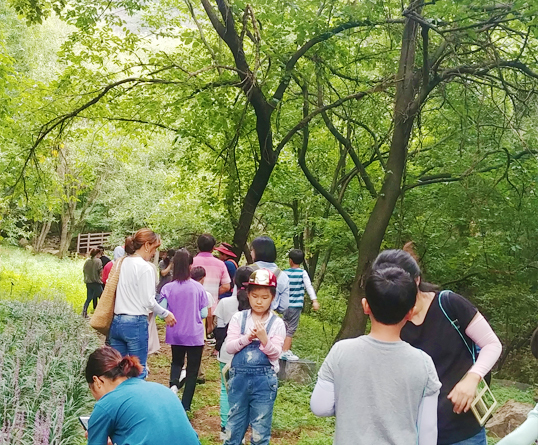 Secret Forest 'Singgeuraenge' Explore Hwaamsa Temple site, hear explanation on ecology and history, and experience tofu making (certified as environmental education).
- Target : All ages (minimum number of people : 10)
- Operation Time : Throughout the year
- Time Required : 2 ~ 4 hours
Participation Fee

5,000 won
Inquiry

☎ 010-3681-8554


☎ 063-262-2929 (Singgeuraenge Agricultural Association)
Historical Culture Resource
ㅡ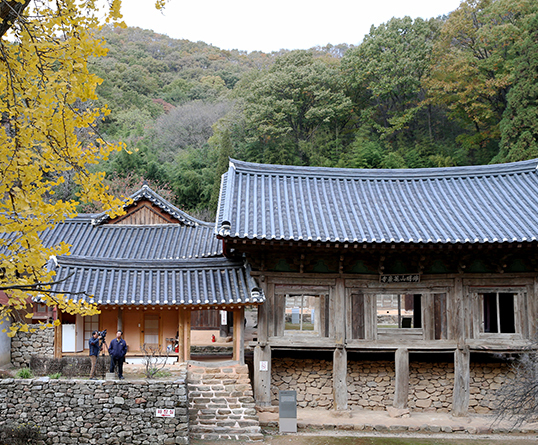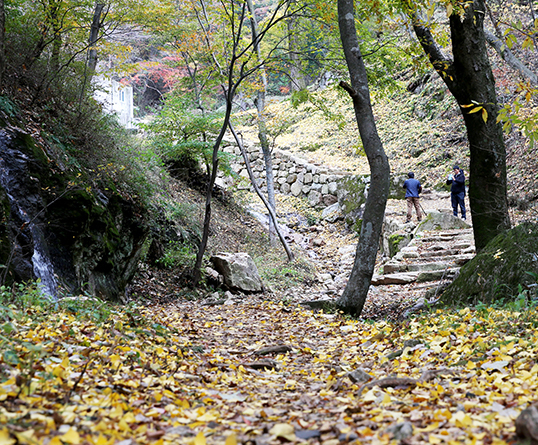 Hwaamsa Temple Located at foot of a Bulmyeongsan Mountain, The name Hwaamsa means a temple where flower blooms on the rock and also famous for keeping passing of time beautifully from Joseon dynasty period. The 'garden of mollification princess' was built at 38,400m wide strip of Hwaamsa Temple land and it fosters several naturally growing wild flower colonies like dogtooth violet, adonis amurensis, pink corydalis, hepatica, primrose for each season.Two water falls in Hwaamsa entry ramp were realigned and decks are installed in order to offer tourists attraction.
Address

Jeollabuk-do Wanju-gun Gyeongcheon-myeon
Gyeongcheon-ri 1078
Jeollabuk-do Wanju-gun Gyeongcheon-myeon Gyeongcheon-ri 1078
Lodging
ㅡ
Traditional Arts & Crafts Studio

Jeollabuk-do Province Wanju-gun Gosan-myeon Sohyang-ri 162
063-290-2596

Changpo Town

Jeollabuk-do Province Wanju-gun Gosan-myeon Daeajeosuji-ro 392
063-261-7373
Gyeongcheon Aein Culture and Community

Jeollabuk-do Province Wanju-gun Gyeongcheon-myeon Gyeongcheon-ri 427
063-263-5555

Rural Private Rental Room of Singgeuraengi Agriculture Association

Jeollabuk-do Wanjo-gun Gyeongcheon-myeon Gacheonri-road 765
063-262-2929
Gosan Natural Forest Lodge

Jeollabuk-do Wanju-gun Gosan-myeon Gosan forest lodge road 246
063-263-8680
Recommended Course
ㅡ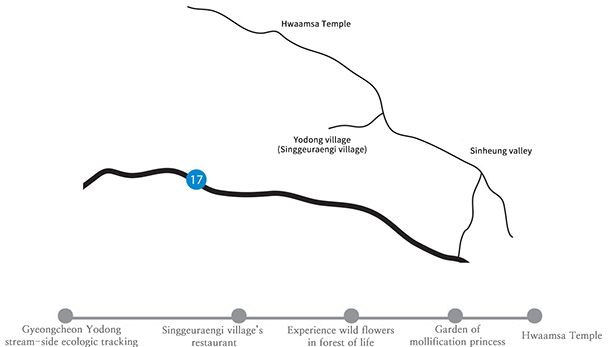 Coordinate Tourism
ㅡ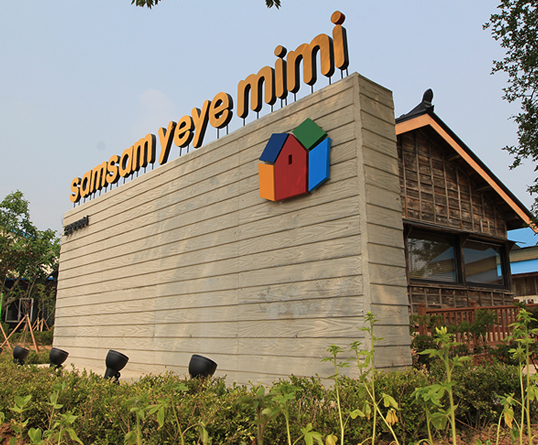 Samrye Cultural Art Village Remodelled from grain storage built in period of Japanese occupation, passing of time is smeared throughout the place. There are gallery, culture cafe, woodwork shop and book museum inside art village where historical meaning and culture coexist, so you can feel comfort that comes from old space while experiencing various culture.

Address Jeollabuk-do Wanju-gun Samrye-eup Samrye Station road 81-13
Inquiry 070-8915-8121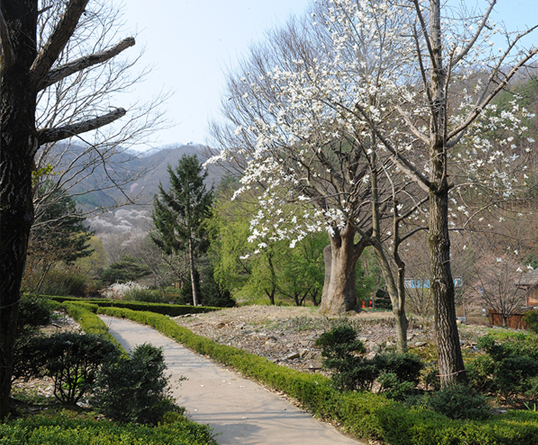 Daea Arboretumhere you can comprehend nature in forest, and learn how to coexist with nature that various plants are living in a area that is over 150ha. There are several major facilities like forest culture museum, garden of tropical plants, forest ecology experience center. Professional gardens like bleeding heart wild colony, yard with great scenery and rosery show us every kinds of spectacle seasonally.

Address Jeollabuk-do Wanju-gun Dongsang-myeon Daea Arboretum road 94-34
Inquiry 063-243-1951
A bio-resource Survey
ㅡ
Biological Distribution Range
Singeurengi village, valley trail, Hwamsa temple, Yodong village
Significant
The nurse trees in this region include zelkova and Hemiptelea davidii.
You can see birds bathing in the pool at the top of Yodong village.
Seoul catchfly (ganeun jjanggoochae)

Plant

It is an annual plant that grows in the wet and shaded areas of the mountains. The root grows at the end of the stem, where it is attached to the ground. The stem grows to a height of 30-60 cm; the lower part of the stem is bent to the ground, and the upper part stands straight. Some people said, it is named as ganeun jjanggoochae (Korean name for Seoul catchfly) because the buds look like a jangguchae (a Korean drum stick). According to Korean history, it used to be called as 'janggo cho' (reffering a herb of Korean drum) at first, because it seems like a half of janggo (Korean drum). But later, the name gradually changed to 'Janggoo chae'.

Mono maple

Plant

Mono maple is a tall tree that is commonly found in the shade and rocky areas of the mountain forest. The monk named dosungooksa was sitting in Zen meditation for a long time, but he couldn't stand up. So he tried to stand up, grabbing a branch, but the branch broke. So he flopped down. He saw the broken branch, and he found a drop of water falling from the branch. He drank that water to wet his dry neck, and surprisingly he could stand up.

Korean buzzard

Bird

Buzzard eats rats and land animals that are typically slow in action, in a vast flatland or reclaimed farmland. It is a winter migratory bird that comes to Korea around October. It builds a nest by stacking up twigs on the branches of trees on steep slopes or cliffs. It lays about 3 eggs that are green with red dots. It is found in Korea, Japan and Tibet as well as in Europe, Northern Asia and east China.
Robust cicada

Insect

Robust cicada has a black or dark green back with white, yellow, brown and green patters. It has shown various generic variation. The kings from Joseon Dynasty wore winged caps that look like cicada's wings. The cicada's straight mouth resembles Korean traditional hat of scholar with strings which suggests good deeds. Cicadas drink dew and resin; this habit suggests their integrity. Also they don't harm crops or vegetable which means they have a sense of honor.

Spotted darter

Insect

The largest number of species are distributed in Korea. The line on the side is extended to the center of the torso; the species found in the south-central region have shown two different types of line – thick line and thin line. The species spawns as male and female are connected together. In June, an immature dragonfly emerged from nymph stage, and moves to nearby mountain. It eats small insects such as mosquitos and mayflies and transforms into an adult dragonfly.

Striped shiner

Fish

It is 10 to 15 cm long. Its body is short and relatively plump; the rear part of the body is longish. Its snout is very sharp and the mouth is small. The lip is thick. There is a small mouth at the tip of the lips which is distinctive from other species. It has a pair of short barbels and a single row of pharyngeal teeth.
Korean Hare

Animal

Unlike domestic rabbits, yeanling Korean hares have fur and open eyes. Rather than a dense forest, they live in sunny areas such as grass fields and cemeteries. They have outstanding protection color, and they are hardly recognized. They tend to run away, stop, and hide for a long time if human approaches to them. We can assume their inhabitation by their footprints on the snow, trace of foods, and feces.

Hemiptelea davidii

Plants

It is a broad-leaved tall tree that grows 20 m high with a diameter of 2 m and usually found at the foot of a mountain or stream. The bark of the tree splits deeply. It has short branches like thorns. The egg-shaped leaves which are 3 to 6cm long and 1.7 to 2.6cm wide, grow in spiral pattern. The leaves have slightly pointy tips and kidney-shaped bottoms with even teeth around the edge.

Marsh tit

Bird

It is about 12.5 cm long. The top of the head and the throat are black. Its upper body is light brown and has no white stripes on the wings. Under the eye and the sides of the neck are white and the neck is black. The tail is light brownish grey. They are observed in flat plains and mountains with broad-leaved forests; they build nests with grass and moss in wooden holes that were made by woodpeckers or artificial nests.
Rustic Bunting

Bird

Rustic Bunting is a winter migratory bird that can be seen throughout Korea. It is about 15 cm long. The upper part of the body is red brown with black vertical patterns, the lower part is grayish white with sparse brown vertical patterns. The eye stripe and the neck are white; it has a brown band across the chest. It has a crest on the head.

Dog-tooth violet

Plant

It is a perennial plant that grows in a slightly damp and sunny forest. The root stem is about 20cm long and has a bulb underneath it. The bulb is long egg-shape, 5 to 6 cm long, 1 cm in diameter, and white. Leaves – long or narrow oval shaped, 6 to 12 cm long, 2.5 to 5.0 cm wide, have dull edges – usually grow under flower stems in one pair.

Korean dark chub

Fish

It is an endemic species of the Korean Peninsula; it is usually found in the West Sea, Namhae and a river that starts from Maeupchu and flows to the East Sea. It is 10 to 15 cm long. It usually lives in clean stagnant water, in the upper and mid sections of the stream, however it sometimes makes its way to the rapid stream. It usually eats aquatic insects or insects that fall on water. The spawning season is estimated to be from June to August.
Flying squirrel

Animal

It is nocturnal, active at night; it sleeps during the day in woodpeckers' holes or in artificial nests. 앞 There is a thin layer between the front and rear legs. It opens the layer widely, when it moves from one tree to another, as if it is gliding; this is why it is called a flying squirrel. We can find its habitat by its feces in cracks of old broad-leaved trees or alder trees.

Greyish white granulated weevil

Insect

It is distributed throughout the country, including Jeju Island, as well as in Japan and China. It usually appears between June and September. It has been reported that it feed on leaves of mulberry tree, false acasia, Japanese wisteria, silk tree and Lespedeza bicolor; it is often found in leguminous plants.

Source by

National Institute of Biological Resources
(https://species.nibr.go.kr)

Korea National Arboretum
(https://www.nature.go.kr)
A bio-resource Survey
ㅡ
Biological Distribution Range
Singeurengi village, valley trail, Hwamsa temple, Yodong village
Significant
The nurse trees in this region include zelkova and Hemiptelea davidii. You can see birds bathing in the pool at the top of Yodong village.
Seoul catchfly (ganeun jjanggoochae)

Plant

It is an annual plant that grows in the wet and shaded areas of the mountains. The root grows at the end of the stem, where it is attached to the ground. The stem grows to a height of 30-60 cm; the lower part of the stem is bent to the ground, and the upper part stands straight. Some people said, it is named as ganeun jjanggoochae (Korean name for Seoul catchfly) because the buds look like a jangguchae (a Korean drum stick). According to Korean history, it used to be called as 'janggo cho' (reffering a herb of Korean drum) at first, because it seems like a half of janggo (Korean drum). But later, the name gradually changed to 'Janggoo chae'.

Mono maple

Plant

Mono maple is a tall tree that is commonly found in the shade and rocky areas of the mountain forest. The monk named dosungooksa was sitting in Zen meditation for a long time, but he couldn't stand up. So he tried to stand up, grabbing a branch, but the branch broke. So he flopped down. He saw the broken branch, and he found a drop of water falling from the branch. He drank that water to wet his dry neck, and surprisingly he could stand up.

Korean buzzard

Bird

Buzzard eats rats and land animals that are typically slow in action, in a vast flatland or reclaimed farmland. It is a winter migratory bird that comes to Korea around October. It builds a nest by stacking up twigs on the branches of trees on steep slopes or cliffs. It lays about 3 eggs that are green with red dots. It is found in Korea, Japan and Tibet as well as in Europe, Northern Asia and east China.

Robust cicada

Insect

Robust cicada has a black or dark green back with white, yellow, brown and green patters. It has shown various generic variation. The kings from Joseon Dynasty wore winged caps that look like cicada's wings. The cicada's straight mouth resembles Korean traditional hat of scholar with strings which suggests good deeds. Cicadas drink dew and resin; this habit suggests their integrity. Also they don't harm crops or vegetable which means they have a sense of honor.

Spotted darter

Insect

The largest number of species are distributed in Korea. The line on the side is extended to the center of the torso; the species found in the south-central region have shown two different types of line – thick line and thin line. The species spawns as male and female are connected together. In June, an immature dragonfly emerged from nymph stage, and moves to nearby mountain. It eats small insects such as mosquitos and mayflies and transforms into an adult dragonfly.

Striped shiner

Fish

It is 10 to 15 cm long. Its body is short and relatively plump; the rear part of the body is longish. Its snout is very sharp and the mouth is small. The lip is thick. There is a small mouth at the tip of the lips which is distinctive from other species. It has a pair of short barbels and a single row of pharyngeal teeth.

Korean Hare

Animal

Unlike domestic rabbits, yeanling Korean hares have fur and open eyes. Rather than a dense forest, they live in sunny areas such as grass fields and cemeteries. They have outstanding protection color, and they are hardly recognized. They tend to run away, stop, and hide for a long time if human approaches to them. We can assume their inhabitation by their footprints on the snow, trace of foods, and feces.

Hemiptelea davidii

Plants

It is a broad-leaved tall tree that grows 20 m high with a diameter of 2 m and usually found at the foot of a mountain or stream. The bark of the tree splits deeply. It has short branches like thorns. The egg-shaped leaves which are 3 to 6cm long and 1.7 to 2.6cm wide, grow in spiral pattern. The leaves have slightly pointy tips and kidney-shaped bottoms with even teeth around the edge.

Marsh tit

Bird

It is about 12.5 cm long. The top of the head and the throat are black. Its upper body is light brown and has no white stripes on the wings. Under the eye and the sides of the neck are white and the neck is black. The tail is light brownish grey. They are observed in flat plains and mountains with broad-leaved forests; they build nests with grass and moss in wooden holes that were made by woodpeckers or artificial nests.

Rustic Bunting

Bird

Rustic Bunting is a winter migratory bird that can be seen throughout Korea. It is about 15 cm long. The upper part of the body is red brown with black vertical patterns, the lower part is grayish white with sparse brown vertical patterns. The eye stripe and the neck are white; it has a brown band across the chest. It has a crest on the head.

Dog-tooth violet

Plant

It is a perennial plant that grows in a slightly damp and sunny forest. The root stem is about 20cm long and has a bulb underneath it. The bulb is long egg-shape, 5 to 6 cm long, 1 cm in diameter, and white. Leaves – long or narrow oval shaped, 6 to 12 cm long, 2.5 to 5.0 cm wide, have dull edges – usually grow under flower stems in one pair.

Korean dark chub

Fish

It is an endemic species of the Korean Peninsula; it is usually found in the West Sea, Namhae and a river that starts from Maeupchu and flows to the East Sea. It is 10 to 15 cm long. It usually lives in clean stagnant water, in the upper and mid sections of the stream, however it sometimes makes its way to the rapid stream. It usually eats aquatic insects or insects that fall on water. The spawning season is estimated to be from June to August.

Flying squirrel

Animal

It is nocturnal, active at night; it sleeps during the day in woodpeckers' holes or in artificial nests. 앞 There is a thin layer between the front and rear legs. It opens the layer widely, when it moves from one tree to another, as if it is gliding; this is why it is called a flying squirrel. We can find its habitat by its feces in cracks of old broad-leaved trees or alder trees.

Greyish white granulated weevil

Insect

It is distributed throughout the country, including Jeju Island, as well as in Japan and China. It usually appears between June and September. It has been reported that it feed on leaves of mulberry tree, false acasia, Japanese wisteria, silk tree and Lespedeza bicolor; it is often found in leguminous plants